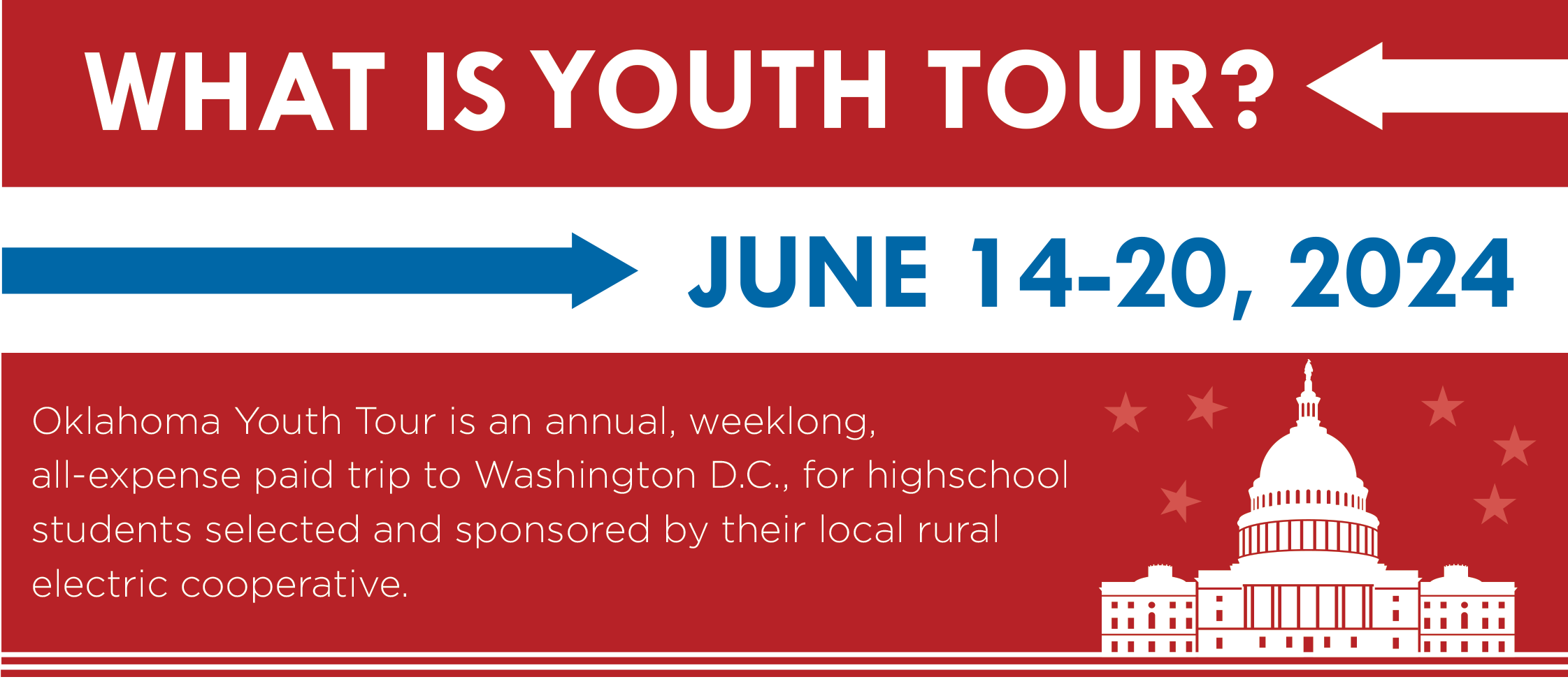 Youth Tour is an annual, week-long, all-expenses-paid trip to Washington, D.C. in June each year. REC annually sponsors three high school juniors from schools within its service territory. The Washington Youth Tour is sponsored by the National Rural Electric Cooperative Association (NRECA), the Oklahoma Association of Electric Cooperatives (OAEC), and 25 of Oklahoma's 27 electric distribution cooperatives. Students travel with the Oklahoma delegation (70 + students) to our nation's capital where they tour historic sites and national landmarks, meet Oklahoma's congressional delegation and much more. Youth Tour has earned a reputation as "a trip of a lifetime" by former participants. In addition to the three finalist selected to attend Youth Tour, another three will be selected to attend Cooperative Leadership Camp near Steamboat Springs, Colorado.
THE CONTEST.  The Youth Tour competition consist of writing an original speech of 600 to 800 words on a topic provided by the Cooperative. If selected has one of REC's six finalists, give your original speech during REC's Youth Banquet to determine which trip the finalist will win.
PRESENTATION TOPIC.  Electric cooperatives most often serve rural communities, using one of the seven cooperative principles: what kind of programs could an electric cooperative, like REC, have to promote and grow its membership in rural communities?
Six finalists will be chosen and will be required to attend REC's Youth Banquet in February. The Youth Tour trip to Washington, D.C. will be mid-June. 
HOW TO ENTER
High School Junior
Write an original speech of 600 to 800 words on topic provided.
Speech must be typed and double-spaced  on 8 1/2" X 11" paper
Complete the entry form. 
No name should appear on the essay, but must be included on the entry form along with school name, teacher's name and contact information.